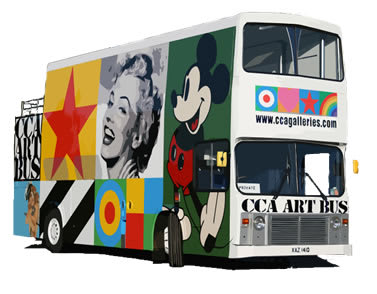 Welcome to the CCA Art Bus
The CCA Art Bus is a mobile art gallery and a recognised work of art in itself, designed by ''The Godfather of British Pop Art'' Sir Peter Blake. Flaunting four sides of pop art iconography and classic Blake imagery, this rock 'n' roll tour bus visits schools, communities, festivals, galleries, and art events across the country, and regularly features in the annually celebrated Lord Mayor's Show.
All aboard the Peter Blake art bus

Above: Sir Peter Blake takes us on a tour of pop cultural landmarks around London on his Art Bus. Video Produced by The Guardian.

Learning through art

Alive with nostalgic motifs and childhood characters, the Art Bus strives to appeal to all ages and seeks to encourage an all-embracing, fun, and practical perspective of the art world. The bus aims to make the visual arts more accessible in every sense, often visiting schools in inner-city areas and those that specialise in learning difficulties. As an educational facility, students are welcome aboard with a chance to design their own model art bus and engage in question and answer sessions with artists live from the studio via the bus's satellite links. This unique experience provides an insight into printmakers such as Peter Blake himself.

We are proud to offer all Art Bus educational visits free of charge. To keep our own costs within budget, we try to incorporate school/college visits into our scheduled trips to galleries, art fairs, and festivals. Visits from the Art Bus may therefore depend on other planned events in your area. Please note that the Art Bus measures 4.5m tall, 9m long and 3m wide, and requires a suitable, secure place to park as well as access to -16 mains electricity.

For more information about education on the CCA Art Bus or organising a school visit please contact us on 01252 797201.

Hire the CCA Art Bus

The Art Bus can be hired on a daily basis. Please be aware that because the bus is a valuable work of art, the purposes for which it can be hired are strictly limited.

Location for photo shoots e.g. fashion, music, etc.
Interview space. The Art Bus was used as a VIP interview space at V Festival, and can be hired for similar events.
Location for filming

Please note that the CCA Art Bus is not available for party hire.